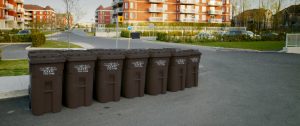 Residential Garbage Services
We have a core set of residential services that we provide. First we can start you off with once a week pick-up or even twice a week pick-up. We also provide walk up service. Lastly we can also dispose of your yard waste or even help you get started with a recycling program.
90 Gallon Wheeled Cart Provided
We provide, free of charge, one 90 gallon wheeled cart for your household waste, brush, tree trimmings, weeds and garden waste. Additional carts are available upon request and can be rented for a minimal monthly fee.
Please make note of some items that require additional charges for disposal.
There are items which are not considered normal household garbage and may require a extra charge for disposal. Brick, concrete, tile, shingles, pallets, drywall, construction debris, carpet, appliances, tires, batteries, waste oil, liquid paint, large brush or branch piles, multiple bags of leaves (during the months of Dec, Jan, Feb & Mar), furniture, hide-a-beds, box springs and mattresses, large wood piles or large junk piles. Please call our office to arrange for pick-up of these items and a price estimate.